24V-48V Brushless Motor Driver with Ce Certification (BLMD-02)
Product Description
This closed loop speed control controller with latest IGBT and MOS Power devices controls closed loop speed by Brushless DC Motor's hall signal. PID speed regulator is set in control link. Reliable control system, especially always achieve the maximum total torque at low speed. The speed control range is from 150 to 10000rpm
1.   Characteristics
| | |
| --- | --- |
| 1 | PID speed and current bicyclical regulator |
| 2 | High performance and low price |
| 3 | 20KHZ chopping frequency |
| 4 | The electrical braking function makes motor with quick response |
| 5 | The overload factor is higher than 2 and always can achieve the maximum total torque at low speed |
| 6 | With Fault alarm function like overvoltage, under voltage, over current, over temperature, the Hall signal illegal etc |
| 7 | Compatible with no hall driver, can be used as brushless no hall driver |
2.   Electrical Specifications
| | | |
| --- | --- | --- |
| 1 | Standard input voltage | 24VDC-48VDC,lowest voltage 12V, maximum voltage 70VDC |
| 2 | Maximum input overload protection current | 30 A |
| 3 | Continuous output current | 15 A |
| 4 | Acceleration time constant(default value) | 0.2 s |
| 5 | Stall protection time | 5 s, the other can be customized |
Safety Precautions
This product belongs to the professional electrical equipment, should by professional and technical personnel for installation, commissioning, operation and maintenance. Improper use will cause electric shock, fire or explosion hazard. This product is a DC power supply; make sure that the positive and negative power supply is correct. Do not plug and connect cables when the power is on. And there is no electricity short of cable otherwise will lead to damage of product. If you want to change direction of running motor, the motor must be slowed down to stop and then reversing.
The controller is unsealed; do not mix with screws, metal shavings and other conductive matter or combustible matter. Please note to avoid moisture and dust during storage and use. The controller is power equipment; try to keep the cooling ventilation.
Guarantee restrictions
Fuxianda products warranty scope is limited to products' devices and processes (i.e. consistency). Fuxianda Electromechanical does not guarantee that the products can suitable for customers' specific use because whether is suitable for also related to technical requirements, using conditions and environment. We do not recommend this product for clinical use
Terminal Interface Description
Ipower input
| | | |
| --- | --- | --- |
| Lead angle No. | Lead angle name | Chinese definitions |
| 1 | V+ | DC input+24-48 VDC |
| 2 | GND | GND input |
II. Motor input
| | | |
| --- | --- | --- |
| Lead angle No. | Lead angle name | Chinese definitions |
| 1 | MA | Motor phase A |
| 2 | MB | Motor phase B |
| 3 | MC | Motor phase C |
| 4 | GND | GND |
| 5 | HA | Hall signal phase A input terminal |
| 6 | HB | Hall signal phase B input terminal |
| 7 | HC | Hall signal phase C input terminal |
| 8 | +5V | Hall signal power line |
III Control signal section
1

GND

signal ground

2

F/R

Positive and reverse control: reversal with GND, forward without it. When reversing switch, you should turn off EN

3

EN

Enable control: motor runs with EN ground connection (online), motor does not run when EN is not connected (offline)

4

BK

Brake control: Normal work without ground connection, electric motor brake with ground connection, when the load inertia is large, it should use pulse signal mode, adjust the pulse width to control the magnitude of the braking effect.

5

SV

Analog voltage input terminal: Attenuate from 0 to 100%, when the external speed command connect 0 ~ 5V it can adjust speed and test machine.

6

PG

Motor speed pulse output: when the number of pole pairs is P, 6P output pulses per revolution (OC gate input)

7

ALM

Alarm output: when the circuit is in an alarm state, with low output (OC gate output)

8

+5V

Speed voltage output: use potentiometer formed continuously adjustable in SV and GND.

9

Built-in




potentiometer

Adjust motor speed, can adjust from 0 to 100%
Wiring Diagram of controller &brushless motor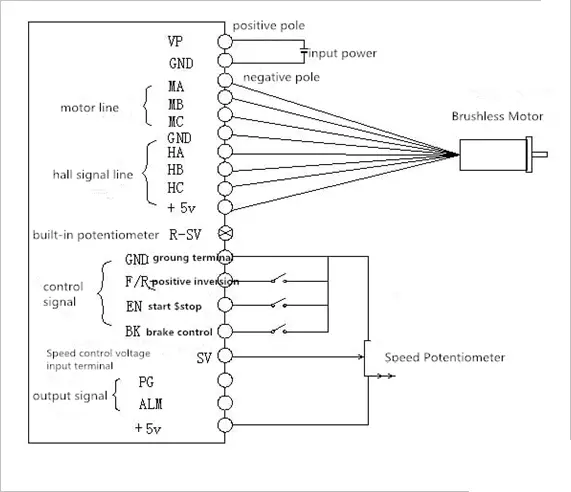 3. Mechanical installation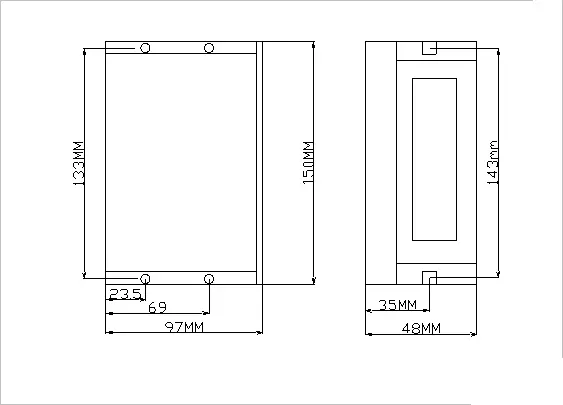 4. Function and Use
Speed adjustment mode
The drive offers two speed control mode users can choose one:
I Internal potentiometer speed adjustment: Make counterclockwise rotation of potentiometer in drive panel, motor speed decreases. The speed increases in clockwise rotation. Potentiometer must be set at a minimum when the user uses the external input state governor
 
II External input speed adjustment connects the two fixed end of external potentiometer to GND &+5V terminal. Use external potentiometer (5K-100K) to adjust speed by connecting adjustment terminal to SV terminal. Speed can also be achieved by inputting analog voltage to SV ends (relative to GND) from control units (e.g. PLC, SCM, etc.) SV terminal acceptable range of DC OV ~ + 5V, corresponding to the motor speed from 0 to rated speed.
III You can also use an external digital signal to adjust speed. Add Pulse width digital signal (PWM) with +5V amplitude and 1 KHz ~ 2 KHz frequency between SV and GND to adjust speed. Motor speed adjusted by linear duty cycle. Then you can adjust the potentiometer R-SV SV digital signal amplitude values of 0 to 1.0 ratio attenuation process, generally adjusted to 1.0 R-SV, the SV input digital signal attenuation process do.
Mtor run / stop control (EN)
By controlling the relative GND terminal EN passes, off to control the operation of the motor and stop. When the terminal is disconnected, the motor runs and vice versa motor stops. Use the run / stop control to stop the motor end, the motor is a natural park, which related to the movement of the load inertia.

Motor forward / reverse control (F / R)
By control the terminals F / R and GND to control the direction of rotation. When the F / R with the terminal GND is not activated, the motor runs clockwise (facing the motor shaft), whereas the motor to turn counterclockwise. To avoid damage to the drive motor rotation change should be the motor stops after exercise. Steering operation is changed again, to avoid running direction of the operation with the motor running.
Braking (BREAK)
Control motor braking stop by controlling the BK terminal and GND terminal turned on and off. When the control terminal and the terminal GND BK disconnected, the motor is running, the motor is turned on fast braking to stop, break shut down faster than the natural specific downtime and load inertia related to the user's system. Braking downtime has impact on both electrical and machine, if no special stop requirement should naturally stop.
Motor output speed signal (PG)
Speed pulse output, the port is OC output (30V / 10mA max) To get the signal should be on the power of indirect 3KΩ ~ 10KΩ pull-up resistor. The end poles with fixed pulse width output frequency is proportional to motor speed (50uS) negative pulse train outputs the number of pulses per revolution of the motor 3 x N, N of the motor. Example: two pairs of poles that is four-pole motor 12 pulses per revolution. When the motor speed is 500 rev / time, the sharing terminal PG output pulse is 6000.
Alarm Output
Drive alarm output, the port is OC output (30V / 10mA max). To get the signal should be on the power of indirect 3KΩ ~ 10KΩ pull-up resistor. The terminal conduct with GND terminal (low level), While the drive to stop working on their own in an alarm state.
Drive failure
The controller enters into protection state when it's overvoltage or over current. The drive will automatically stop working, the motor is stopped, and the blue light on the drive is flash gravel. As long as the enable terminal is reset (i.e. EN and GND disconnected) or power is failure, the drive to disarm the alarm. Please check the motor wiring when occurring this fault.
5. Controller using step
I Correctly connect the motor line, the Hall line and power line. Incorrect wiring can cause damage to the motor and drive
 
II When use the built-in potentiometer to adjust speed, connect EN terminal to GND terminal and SV terminal with +5V. Adjust speed with built-in potentiometer R-SV
III If use external potentiometer, make the R-SV transferred to a position 1.0. At the same time connect external potentiometer fixed point (intermediate interface) to controller SV terminal. Connect another two to GND and +5V terminal.
V Operate with power the motor in a state of closed-loop top speed. Adjust fader potentiometer to the desired speed

Contact us if you need more details on Brushless Motor Controller. We are ready to answer your questions on packaging, logistics, certification or any other aspects about BLDC Controller、BLDC Motor Controller. If these products fail to match your need, please contact us and we would like to provide relevant information.
Product Categories : Brushless DC Motor Driver